Omnipod…Kind of a silly word right? Well, not for people who are living with Type 1 Diabetes. Our Omnipod is our pancreas,  it just lives on the outside of our body instead of the inside! 
Hi, my name is Jessyka and I have been living with Type 1 Diabetes since 2016. I discovered the Omnipod Dash system in 2021 after I had my son, Walker. I knew I needed something to help with trying to figure out motherhood and trying to have a good handle on my diabetes. Key word trying. Omnipod allowed me freedom. I was so tired of always poking myself with multiple needles a day, I felt like a walking pin cushion. I knew I need something that was going to work for my long acting insulin and my short acting insulin and help keep my A1C's down.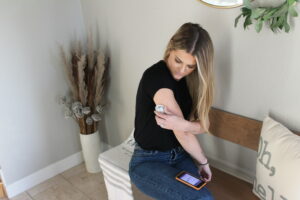 Omnipod Features
Omnipod Dash is the latest and greatest in the insulin pump world. The dash allows you to enter your blood glucose manually through your favourite BGM (blood glucose meter ) or CGM (continues glucose meter) of your choice. It also acts as two different types of insulin, long & short acting. You have something called a  basal rate, which means you have a continuous flow of insulin throughout the day. The fast acting is just doing a normal bolus before meals or correcting if you're high! As of right now, Omnipod does not work with Dexcom but that won't be for too much longer. Dexcom is actually in the works with Omnipod to have them talk to each other so you stay more in range than having to guesstimate your corrections, pretty cool! Check out the article about Omnipod 5 to see more when it comes out!
Another amazing feature is the "food library" in the PDM itself. It allows you search your food and tells you how many carbs are in that meal. When you set your Omnipod up you set your numbers, for me, I like to stay between 80-150. When I enter the food I am going to eat along with what my blood sugar is at that time, it will recommend how much insulin I should take for that meal. Also, it helps prevent me from going too low after a meal!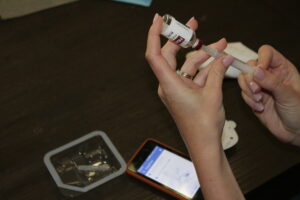 How Much Does Omnipod Cost
Now the topic everyone is scared to ask… how much does it cost? Well for me, personally it's only about 15 dollars for a 3 month supply with really good insurance and yes even Medicare helps cover Omnipod! The Omnipod customer service is amazing, they will send you a 30 day supply for free to try it out before committing!
In Australia the Omnipod Dash is just out with pricing at $799 AUD for 30 days, which is discounted from the RRP of $1140.20 for 30 days.  This is not an insignificant cost.  Consult your health insurance and healthcare professional to see what is possible. 
Omnipod vs Other Insulin Pumps
Having an insulin pump has always scared me and I never wanted to be "tied" to something.  I already feel tied to diabetes for the rest of my life. I didn't want something hanging off of me, literally. Omnipod Dash is a tubeless insulin pump that is the size of a Keurig Coffee Pod. Pretty small! Regular insulin pumps, with a wire hanging off of you 24/7 is a little different, you have a circle like patch on your stomach, or where ever you put it with a wire attached to a device the size of an iPhone. Kind of bulky huh? I knew the wire(s) wasn't for me when I had a son, especially a boy who loves to grab at everything! 
Where Can You Wear Omnipod
I also loved that the Omnipod can go just about anywhere on your  body.  My favourite spots for my Omnipod are my stomach, arms & upper legs! I find that it's out of reach from my son, comfortable enough for clothes to go over & out of the way so I don't bump it on anything. Also consult your doctor if you have any other questions.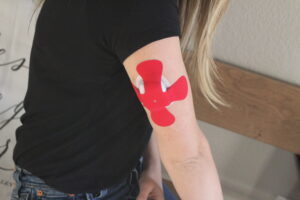 How Many Units Does Omnipod Hold
With Omnipod being able to hold 200 Units of insulin I know that I am completely covered for the next 3 days with all the insulin I need. I personally use Humalog for my insulin. Omnipod can hold any kind of insulin you may have at your house. 
Omnipod Failures & Faults 
Bad part of the Omnipod Dash? The bent cannula that has happened to many friends of mine and even to myself. That's why I love the stomach, arms & legs to help prevent that from happening. I have found that the more fatty parts of your body help with insertion. The cannula is a tiny tube that inserts into your skin & it is visible through a little window (see photo).  The cannula is something that I really like because it doesn't hurt like a pinch or sting of a needle. Sure it has its moment when it hurts but their customer service is above everyone else's. You simply call, tell them the problem & they will replace the pod itself & the insulin you lost in the pod! 
What Age Can You Start Omnipod
You can start with Omnipod at any age. Literally! I personally have seen kids from 3 years old all the way up to adults. It's approved for any active kids or adults in sports or for anyone just trying to manage there blood sugars.